7716JC Large Cruiser Box
View Images
Price: $635.70
Sale Price: $533.95
Availability: 6 weeks
Prod. Code: 3-JC-7716JC
7716JC Jonti-Craft Large Cruiser Box
Little "cruisers" can develop balance and large motor skills using these carpeted boxes.
Flip them over for storing toys.
Carpet color may vary.
Stationary.
Dimensions: 13" High x 49.5" Wide x 13" Deep
Weight: 44 lbs.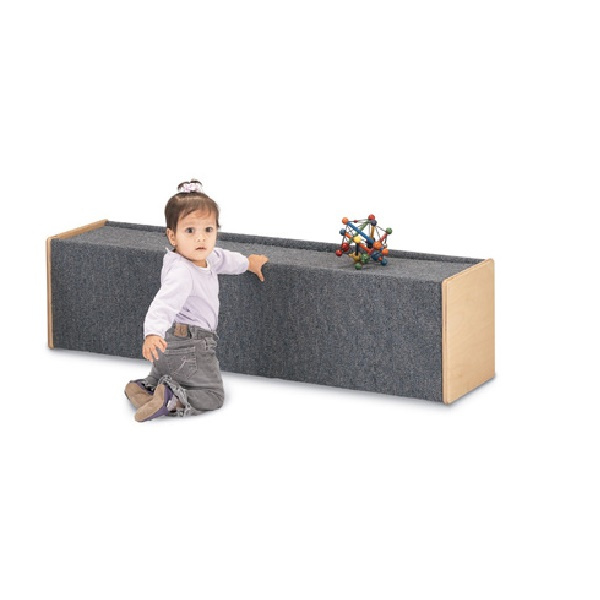 Lifetime Factory Warranty guarantees against any defect in material or labor, absent any misuse or damage by the customer.
KYDZSafe Rounded Edges. Each and every one of our edges and corners are rounded to a minimum of a 1 inch radius, allowing children to play safely without getting hurt by sharp edges and corners.
KYDZSafe Kickplates. KYDZSafe kickplates add another level of safety to our products as they keep small toes and fingers from being pinched and prevent children from losing their favorite toys underneath the unit. Kickplates not only add strength and safety to a product, but they also add high quality aesthetics.
KYDZSafe 15" Depth. Our KYDZSafe 15" depth adds increased stability to all of our products and provides 25% more storage space than the competitors' 12" depth.
KYDZTuff® finish is just that — tuff enough for kids. It is an ultraviolet acrylic coating that's as tough as the finish on the lanes of a bowling alley and it's environmentally friendly too. The finish is ultra-durable and resists yellowing over time, so your furniture can look as new as the day you purchased it. It has an extra-strong resistance to daily wear and handles cleaning products with ease — even bleach and nail polish remover. With just a simple swipe of your hand, permanent marker and other stubborn spots are gone leaving nothing but a finish that still shines.
KYDZStrong Construction.Jonti-Craft, we employ dowel-pin construction. This technique is stronger than the dado joints used by other companies and prevents weakening at the joints, where most of the stress occurs. Using this method also results in a more aesthetically pleasing product and extends the product's lifetime by 50 percent.
KYDZStrong Materials. Our products are crafted with durable materials that are made to last. Baltic Birch products are made with Eleven Ply ⅝" Baltic Birch, the strongest plywood in the world. The plies are laid cross-ways to make each board stronger and to prevent the wood from expanding and contracting in seasonal weather changes.